On this page we present titles by Shlomo Kalo that are published, or are soon to be published in English. Most of them are available at our online store.
We also welcom you to scroll down and leave your name and email address at the Contact Us form. We will send you a short story by Shlomo Kalo as a giveaway!
Our next free promos on Amazon Kindle:
The Day is coming (June 27, 2018)
The following titles are available on Amazon Kindle Store. Clicking the image links to the title's page at Amazon.com.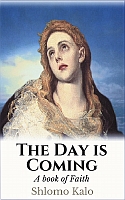 THE DAY IS COMING
by Shlomo Kalo
Promo date of Kindle edition: December 27, 2018